Walking or hiking on any type of terrain requires outdoor gear that will perform to a level that gives lasting comfort while taking on the elements and trail conditions so you can focus on the views.  One particular piece of gear that often is overlooked or may not be given enough thought is the most crucial when it comes to the outdoors and that is footwear.  There are so many brands and footwear types that are designed for all kinds of weather conditions and types of ground underfoot you may need to do a bit of research before choosing the right pair to best suit not only your individual preferences but to better tackle the ground you will be walking on.
This particular Gear Guru Top 5 for 2016 is focused specifically on the Walking Shoes we have tried and tested throughout the last year to find the ones that perform best overall.  Walking and hiking shoes tend to be more suited to warmer climates as they are a lower profile than mid-height footwear and boots, are lighter and are often favour breathability over insulation yet can be as equally varied in what they offer.  Our favourite five walking shoes for this year includes some usual suspects that we have reviewed before that maintain their status as premium footwear alongside newer styles as well in order to inform all kinds of outdoor enthusiasts which ones are better suited to say wetter weather, a fast pace or performs well in every aspect.
Gear Guru Top 5 Walking Shoes for 2016
Salomon Speedcross 3 GTX Shoes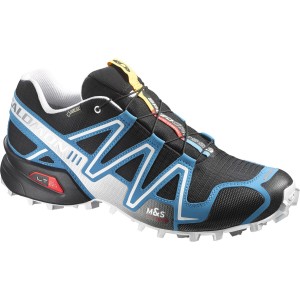 These are designed as a light yet aggressive trail running shoe primarily which is evident with the fairly sporty technical style, yet due to the features and construction that have gone into the Salomon Speedcross 3 GTX Shoes they perform just as well on a walk.  The upper is made to keep out the elements as fast-paced movement tends to kick up more dirt so has anti-debris mesh and a gusseted tongue to stop any from entering.  In addition to this water resistant textile is used along with a GORE-TEX eXtended Comfort waterproof and breathable membrane so it remains dry fairly effectively.  Internally the footbed and midsole has a number of innovations from Salomon such as an Ortholite Foam Sockliner that gives breathable cushioning, a cradling Sensifit system for torsional stability and secure fit, plus a Heel Cup and EVA shaped footbed that support, cushioning and ensure lasting comfort.  The rand is a Salomon Mud Guard which besides being quite hard wearing also stops wet mud sticking to it, much like the Mud&Snow Non-Marking Contagrip used for the outsole that sheds any from the lugs to maintain its high level of traction and grip.
North Face Hedgehog Hike GTX Shoes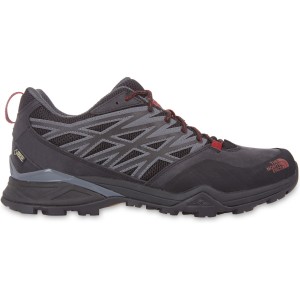 The North Face Hedgehog collection always delivers in terms of lasting comfort and support so you can walk further for longer and with this hiking specific version of the popular design it is no exception.  The exterior is predominantly full-grain leather with abrasion-resistant textile mesh, synthetic quarter overlays and a scratched rubber toe box which makes them quite durable.  Similar to the previous walking shoes from our top five these North Face Hedgehog hikes shoes feature a fully waterproof GORE-TEX membrane so work hard at keeping your feet dry.  A Vibram constructed outsole lends all the grip and durability you need on every terrain condition you are likely to trek over while inside a full foot TPU shank gives underfoot protection and a compression moulded EVA midsole is very supportive and comfortable which helps to reduce muscle fatigue on long walks.
Merrell Intercept Walking Shoes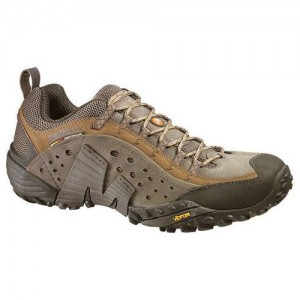 If you prefer a light shoe that not only works well throughout the year but also looks good enough to wear as part of your daily routine the Merrell Intercept walking shoes are more than the ideal choice.  These have a slim athletic design that incorporates the different upper fabrics of sculpted leather and mesh into it, both if which add a level of durability, water resistance and breathability without compromising on flexibility.  The tough moulded footframe and Ortholite anatomical footbed cradle the natural shape of the foot so comfort and support is continually maintained throughout wear.  For further comfort there is a mesh lining coated with Aegis antimicrobial technology which helps to wick moisture away while prohibiting the build-up of odour causing microbes to leave these feeling fresh for much longer. 
Meindl Philadelphia GTX Walking Shoes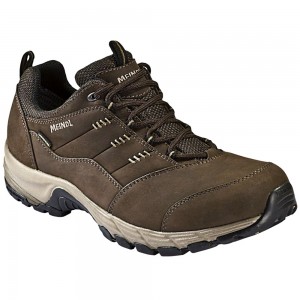 Designed to be slightly wider than your average pair of walking shoes to accommodate a larger foot size and allow plenty of room to move and flex; the Meindl Philadelphia GTX shoes are built for comfort while protecting you from the elements.  A leather upper keeps them durable and gives some protection against the elements which is heightened by the inclusion of a breathable and fully waterproof GORE-TEX membrane.  There is a mesh fabric used on the tongue and around the collar which helps to wick moisture while keeping them cooler as you walk, plus are soft for better comfort and to reduce chafing around the ankle.  These Meindl Philadelphia GTX shoes similar to some of our other top 5 walking shoes have outsoles made by Vibram as they always deliver a lot of traction, grip and control that lasts.
Keen Durand Low WP Walking Shoes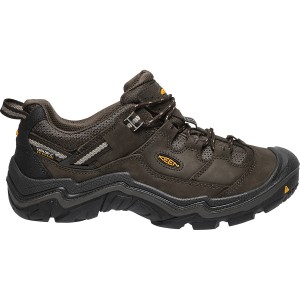 Designed for lasting comfort and hard wear, the Keen Durand Low WP shoes feature the brands' own proprietary Polyurethane and dual-compound rubber outsole that in addition to ensuring a lot of grip, are built to absorb shock from heel strikes and due to their PU construction resist breakdown for longevity and aren't affected by compression which is handy during times when you carry a heavy pack.  The upper is mostly leather but has breathable mesh sections so helps keep them cool which is lined with a KEEN.DRY membrane to prevent any moisture getting inside while allowing vapour to easily escape to keep you dry as you go.  A metatomical footbed gives these Keen Durand Low WP shoes cradling support as it matches the natural contours of the feet which also makes them comfortable even throughout a long distance hike.