Walking Boots are a key type of footwear for anyone wanting to get exploring outdoors, especially in less favourable terrain and weather conditions as while many share technical features and constructions with walking shoes these do have a number of advantages.  Like any good footwear you can expect protective and supportive uppers, shanks for stability and underfoot protection, cushioning midsoles and essential grip and traction with durable outsoles, but these feature higher collars ranging from mid-height to a hi-top style and factors like better insulation and able to perform when you need to carry outdoor gear as well.
Each year as Webtogs Gear Guru, every type of outdoor gear used is gone through with the aim of giving a review of the Top 5 to help readers find the ideal product for their needs.  For the chosen five Walking Boots of the last twelve months a range of factors have been considered in what makes for the premier pairs of walking boots around, such as performance, durability, comfort and protection to establish the best all-rounders, plus which ones specifically wear most effectively during warmer conditions or alternatively in colder weather depending on which type you may be looking for.
North Face Flow Chute Walking Boots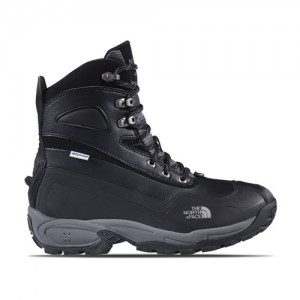 As with any North Face product, their Flow Chute walking boots are built to take on the outdoors.  These TNF boots are ideal for use on all terrain throughout the year with three separate aspects to make them waterproof which consists of the synthetic leather upper, a HydroSeal membrane and a welded TPU shell plus Primaloft Eco insulation throughout for lasting warmth.  The upper and TPU construction also provide plenty of durability to these North Face Flow Chute boots.  Inside is a single density Northotic footbed that cushions while supporting the arch, plus a light EVA midsole that adds stability and a TPU shank for torsional stability so the foot stays in place while increasing underfoot protection.  The Winter Grip rubber outsole construction for these North Face Flow Chute Walking Boots is specific for cold weather so will work very well throughout the year while the lugs feature Ice Pick temperature sensitive technology to increase traction on ice and slush.  You can also attach snow shoes and gaiters to the corresponding D-Rings for even further use in snow and ice conditions.

Salomon Quest 4D GTX Walking Boots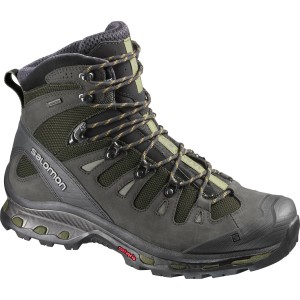 The original Salmon Quest GORE-TEX boots have been updated a number of times over the years, with the 4D being the latest incarnation with improved features that give a new design aesthetic.  These are versatile in that they can be worn year-round but may feel a little too warm during summer months.  The upper is a mix of textile fabric and Nubuck leather with a lining of 3D mesh and a GTX waterproof membrane so reliably keeps water droplets from getting inside while allowing internal moisture and some heat to escape, plus has a gusseted tongue for comfort.  It also has a mud guard and protective heel cap to increase protection against muddy and tricky terrain conditions.  The inner workings see a 4D Advanced Chassis which is a midsole that gives a greater control over flex, helps to reduce ankle strain through support and stabilises the feet better in the shoe plus acts like a shank as well for protection.  There is also an EVA shaped footbed and Ortholite sockliner for cushioning and to promote more comfort as you walk.  Underfoot, each Salomon Quest 4D GTX boot has Non-marking Contagrip outsoles so easily grip and ensure traction across a range of terrain while shedding dirt and debris so it doesn't clump in the treads.

Meindl Bhutan MFS Walking Boots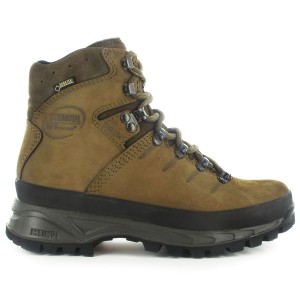 The Meindl Bhutan boots design originally was the answer to a tried and tested durable, stiff leather boot for hiking and trekking that also had lasting comfort throughout wear, though at the time it was called the Burma Pro.  Today this particular version of the popular boot has all of the performance and reliability you could want from this type but with features that further the overall comfort and function, primarily the Memory Foam System (MFS) that not only cushions exceptionally well but also dramatically reduces muscle fatigue.  There is further soft cushioning around the collar which also supports the ankle and keeps grit out quite well.  The full leather upper and GORE-TEX membrane ensures high water resistance and breathability yet is supple enough to flex where needed while a rubber rand encases the mid section just above the outsole for greater durability which is ideal for handling scrambles and rough terrain.  An outsole construction made by Vibram has been expertly designed to flex with the rest of the Meindl Bhutan MFS Walking Boots yet maintain grip and traction across a range of terrain.  The only downside is that these are a three-season boot so are not ideal for winter conditions.

Merrell Moab Mid GORE-TEX Walking Boots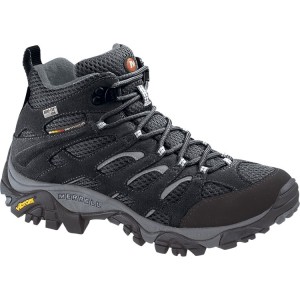 Ideal for warmer weather treks and trails, this version of the acclaimed Merrell Moab Boots are mid-height and made with a waterproof and Aegis treated anti-microbial GORE-TEX lining.  This modern looking boot has a Dura leather and mesh upper plus a synthetic leather toe cap and heel counter for lasting durability and protection against the elements.  Similar to the others in our 2016 Top 5 Walking Shoes these have an Ortholite anatomical footbed conform to the natural shape of the feet which enables lasting comfort and support.  The midsole construction does offer substantial cushioning with a compression moulded EVA footframe and a Merrell Air Cushion located in the heel which also helps to keep the feet in place as well.  An arch shank adds to the stability while not restricting flex and also helps to protect the underside of the foot also.  The Merrell Moab Mid GORE-TEX Walking Boots feature a Vibram Multi-Sport sole so straight away you know it will perform well and does grip, brake well and give steady traction on just about any kind of terrain.

Keen Targhee II Mid Walking Boots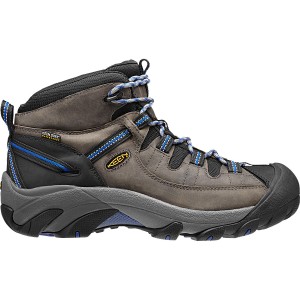 For high traction and plenty of secure footing in wet weather the Keen Targhee II Mid Walking Boots are ideal.  Under a hard wearing Nubuck leather and breathable textile upper is a KEEN.DRY waterproof membrane making them highly resistant to water without compromising on breathability and internal temperature regulation.  The midsole and footbed is similar to the rest of the Top 5 with an EVA footbed, though this one is removable and dual-density so is more durable, plus the same for the midsole so there is plenty of support.  An ESS Shank is used for torsional stability so keeps the foot well secured in place and adds rigidity underfoot, plus the Keen Targhee II Mid Walking Boots feature a hell support structure to help prevent strain and fatigue as you walk, especially on rocky, unstable ground.  The outsole is also Non-marking rubber with 4mm lug depth so while not as deep as some of the others, these Keen Targhee Two boots still grip well and stop wet mud and debris from clumping between them.

So there you have the Gear Guru Top 5 Walking Boots for 2016, any of which will perform well across a range of terrain.