A Tent is one of the most important items of outdoor equipment you can have amongst your gear and obviously is crucial in you getting a good night's rest away from the elements and any indigenous wildlife that may wander your way as you sleep.  Here at Webtogs Gear Guru we know that not every type of Tent may be suitable for pitching on every type of terrain or use during each season or in certain types of weather, especially on high altitude expeditions so we have brought together our favourite Tents from the past year for our Top 5 Tents for 2015.  This 'best of' highlights different types of tents for various conditions so you can have the most effective and well performing tent in terms of weather resistance, durability and lightweight packability that suits every outdoors enthusiasts needs.
North Face Heyerdahl Tent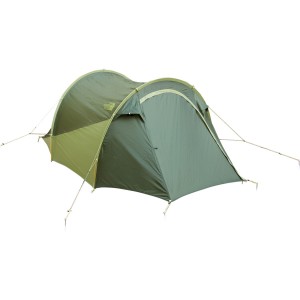 This is a great all-round use tunnel tent design, named after the Norwegian explorer Thor Heyerdahl and features a construction that works very well against the elements.  The North Face Heyerdahl Tent comes in multiple size options depending on how many of you there are on a particular camping trip or expedition, typically in two or three person capacities.  The exterior fabric is Nylon Rip-Stop making it durable for the outdoors and continual use, plus has double doors that allow for both ventilation and protection from the weather.  The canopy also features two mesh vents that have zip openings so you can control the desired airflow, plus there are three vents in the rainfly as well.  Pitching is relatively easy with two equal length poles and four equalised guy outs that have a total of eight points of contact so holds the structure really well.  Each North Face Heyerdahl Tent also has a vestibule with a decent amount of space for gear storage and dry entry as well.
Snugpak Bunker Tent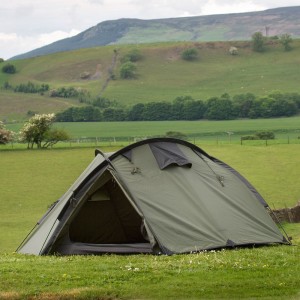 The Snugpak Bunker Tent is built for a quick and easy pitching in some of the worst weather conditions anywhere you can physically set up a tent on the ground.  It is made with premium quality materials throughout which make it durable and protective against the elements while being very light in weight.  The Flysheet is 210t Polyester RipStop that has a waterproof Polyurethane coating to 5000mm, the groundsheet is 190t Nylon PU and also waterproof to the same rating while the inner part is the same type of Nylon but with 50 Denier Polyester No-See-Um Mesh.  DAC Featherlite NSL poles made from anodised aluminium are tough, yet maintain the overall low weight of the Snugpak Bunker Tent.  It also has six interior mesh pockets so you can store belongings above the ground for more floor space.  This Snugpak Tent is ideal for tough conditions and ease of use and carry.
Tentsile Connect Tree Tent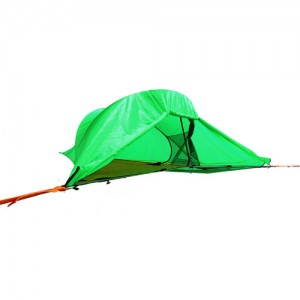 The Tentsile Connect Tree Tent is the most unique and versatile of our Top 5 Tents in this 2015 Gear Guru Guide as not only can it be pitched with ease at ground level, but can also be suspended between three trees or other larger free-standing structures or boulders.  The idea behind any Tentsile is to be amongst the trees to alleviate damaging terrain and flora while having a camping experience like no other.  This two person tent is highly durable and has the option to attach a hammock underneath for a third individual if required, plus if there are even more of you it can be attached to at least two more Tentsile Connect Tree Tents as well for a communal experience.  The flysheet has the option of being removed for an open top experience in the outdoors in warm, dry days and you can peg the rainfly towards the ground for a covered porch area. 
Terra Nova Laser Competition Tent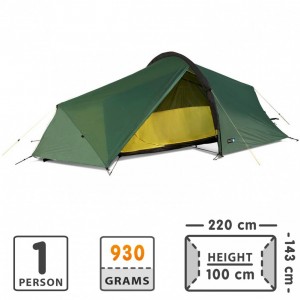 For trips that are fast paced and require outdoor gear that is as light as possible, the Terra Nova Laser Competition Tents are the ideal choice.  They do come in 1 or 2 person sizes depending on your needs and are designed to pack down to a relatively small size and be lightweight for ease of transportation which can be furthered by combining it with the Terra Nova Fastpack system.  The footprint of the inner tent is less than a standard single person or double tent but is highly breathable making it ideal for warmer conditions and is waterproof with a Durable Water Repellent coating that keeps you and the interior dry.  The poles are DAC Featherlite so are tough, ultra-light and like the four additional guy points ensure plenty of stability which is essential to have, especially if the winds pick up.  So for an all-round easy and lightweight tent whether on mountain marathon type events or when you like to go it along the Terra Nova Laser Competition is the best choice from our Top 5 for 2015.
North Face VE 25 Expedition Tent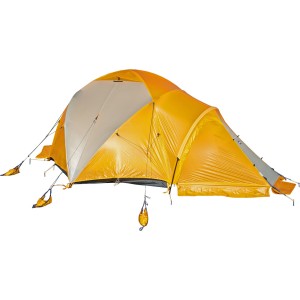 If you love to spend your time in the outdoors deep in the elements, at high altitudes throughout any time of the year then the superior, tried and tested classic North Face VE 25 Expedition Tent is the top choice from our 2015 Top 5.  This three person tent has tough, waterproof fabrics that includes a -60 degree cold crack tested Fahrenheit Polyurethane port window and a taped Nylon bucket floor so gives respite from the worst of the elements.  This North Face VE 25 Expedition Tent has dual doors and poled front vestibule, tough and light DAC stakes with a pull cord, four fabric snow stakes, and No-stretch Kevlar reflective guylines for a secure and stable setup even in unforgiving cold environments. 
However you like to camp in the outdoors, whether occasionally at the weekend or as part of an extensive expedition our Top 5 Tents for 2015 Gear Guru Guide should hopefully have the right tent for your needs.