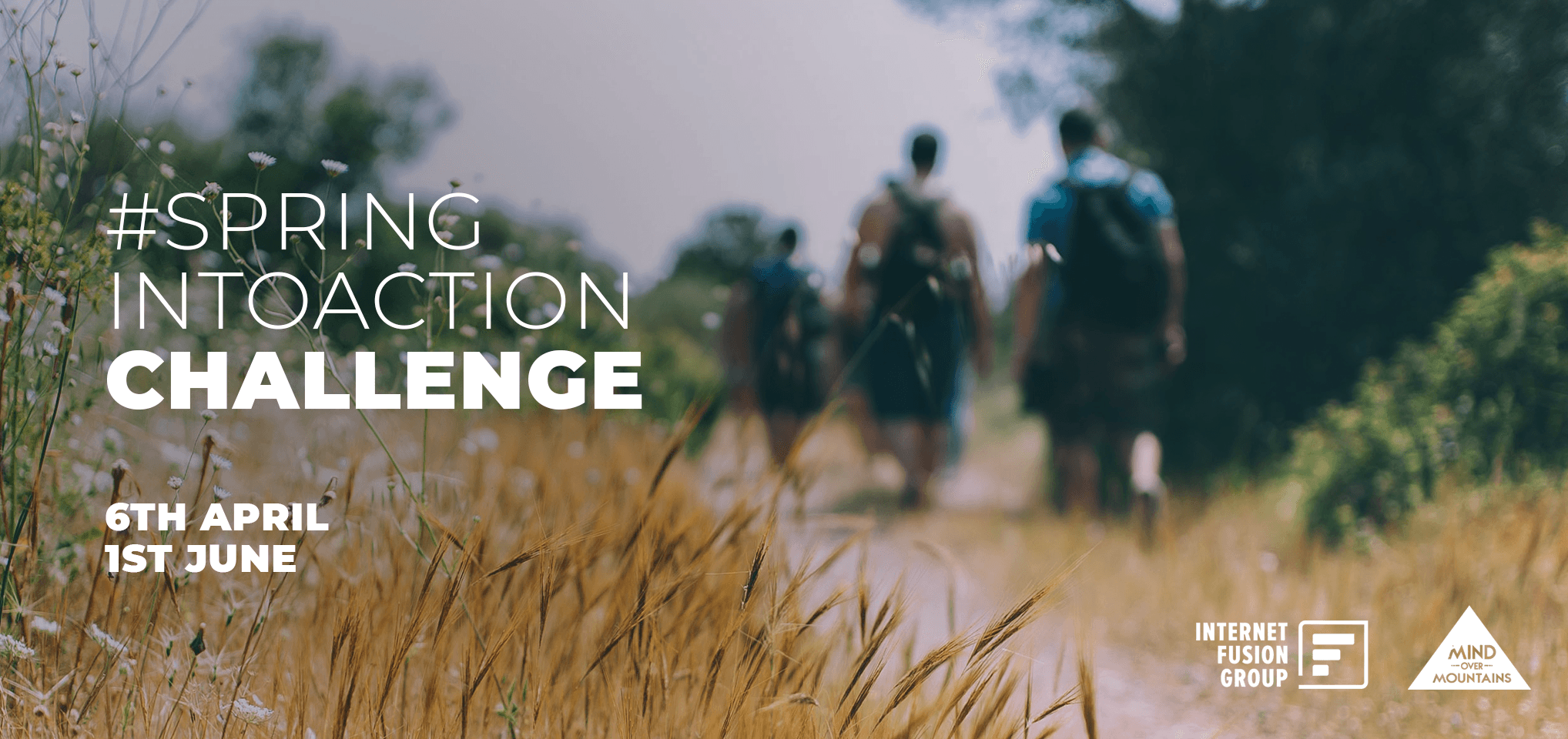 Written by Alice Barber.

As part of the IFG group, our core value at Webtogs is to help people connect with what matters to them in a simple and sustainable way. In everything we do, we hope to inspire our customers to get outdoors and pursue their passions, whatever they may be. Strongly believing humans weren't built to sit behind a desk all day, we have recently launched the IFG Spring into Action Challenge (shout out to our colleagues Tom O'Neill and Jimi Harrison who created this initiative) which started on the 6th of April and will run until the 1st of June.
What is the #SpringIntoAction Challenge?
As part of the Internet Fusion Group, we nurture a culture of innovation, hard grafting, and next level creativity, but also directly focus on mental health. We passionately encourage kindness, open dialogue, flexible working and offer counselling services for all staff. This challenge was created to inspire our employees to head outside and focus on their well-being by reconnecting with nature all while raising money for charity. Sharing these same values with us, we've partnered with Mind Over Mountains, a mental health charity that offers immediate and accessible mental health support through outdoor experiences to help restore mental health naturally.
For our Spring into Action Challenge, we have invited all colleagues to walk, run, cycle, surf, skate, ski and horse-ride to gain miles and collectively travel the 10,500-mile distance from Manchester to Sydney. From the lunchtime walks, weekend runs, evening bike rides, skate sessions, and long-distance horse rides, we've been racking up the miles. So far, we've made our way through Egypt, the Suez Canal, and are now moving past New Delhi, as we continue to travel towards Sydney. 
Why take on this challenge?
Mental wellbeing is a topic close to all our hearts at Webtogs, as we are aware mental health issues can happen to anyone at any given moment especially during these tough times of lockdown and uncertainty of the future. The main objective of this challenge is to get as many employees out of the house as possible as we understand now more than ever the importance of spending time outside and the impact this can have on our mental health. The physical output of walking alone has been found to reduce pain, depression, and anxiety. Walking can also increase creativity and instantly releases naturally mood boosting endorphins into your body. We would also like to encourage our customers to spring into getting outdoors, as the theme for this year's Mental Health Awareness Week is nature. Our Spring into Action challenge seamlessly combines nature and the importance of nurturing our mental wellbeing. As we enter the spring-summer season, why not work on your mind and body at the same time by taking a short walk outside every day, even if it is just for 10 to 15 minutes long. Escape the stresses of daily life and find time to recentre yourself by taking part in our Spring into Action initiative, sure to make all the difference for your mental wellbeing.
Mind Over Mountains Charity
As part of the IFG Spring into Action Challenge, we will be raising money for the Mind Over Mountains charity. Founded in 2018 by Adventure Uncovered in partnership with Alex Staniforth, Mind Over Mountains helps people restore their mental health naturally through a range of accessible, therapeutic outdoor experiences. Taking a holistic approach to healing, they use the transformative power of the great outdoors to help you establish a connection with nature, build resilience, and create a foundation of lasting change.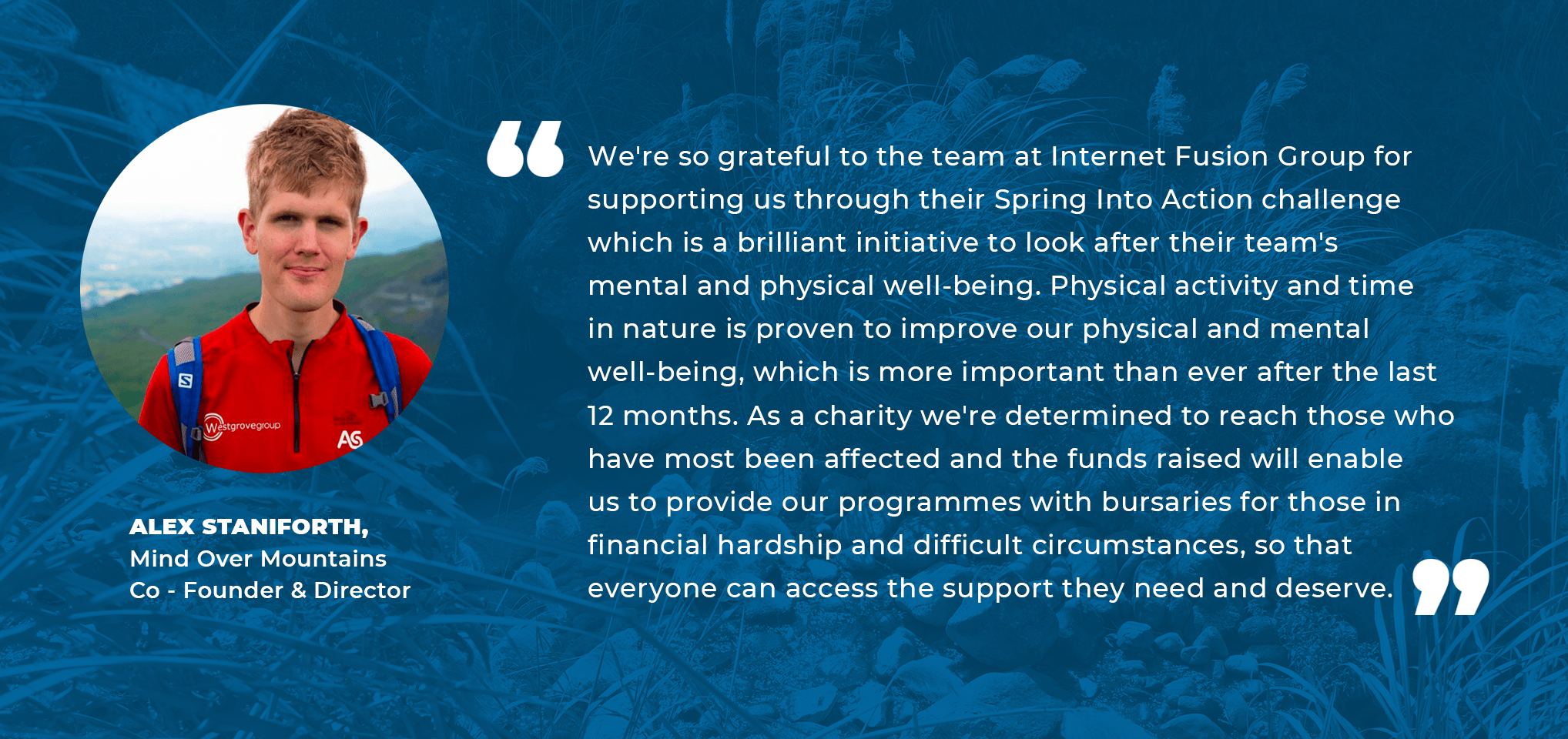 Mind Over Mountains hosts a variety of events across the UK where you can escape into nature and spend meaningful time immersed in remote locations. Each event is led by a team of experienced coaches, counsellors and mountain leaders who offer professional 1-2-1 support and inspiring talks. These events are a safe space for expressing yourself and learning from others in a compassionate community free from judgement. Mind Over Mountains is determined to make a positive and lasting difference to society by empowering program attendees and confronting unhelpful beliefs and mindsets. They aim to deliver programmes in all 15 UK National Parks each year by 2023 and support over 1,000 people directly each year while benefiting families and wider communities. Mind Over Mountains' goals also include building an empowered community through social media, signposting, newsletters and working with other charities. Discover more information about Mind Over Mountains and all the great events they host for restoring mental health HERE.
How to Get Involved
We all have the power to help in big and small ways and can collectively make an impact to the Mind Over Mountains charity and the people who use their services. The amount we raise during our IFG Spring into Action Challenge will go directly to some incredibly well thought out events to help those in need. If you are interested in the Mind Over Mountains charity, get involved here to donate. Very generously, IFG will also double the amount raised on our Just Giving page.
You can also get involved in our IFG Spring into Action challenge by simply scheduling time in for your own outdoor adventures whether that be a gentle walk around your neighbourhood or weekend trek as the benefits of walking for your physical and mental wellbeing are endless.