The outdoors is a sanctuary, a playground, a place of wonder, it can be a place of solace for quiet reflection or an adrenalin-packed adventure. It fuels the wanderlust in all of us, that quiet whisper in the back of our minds calling us to escape and explore.
Whether on your doorstep or thousands of miles from home, the outdoors doesn't discriminate, it beckons us all to get out there and enjoy. Osprey is reaching out to their athlete and adventurer community to share experiences directly from the field, the stories, places and people who inspire them. To shine light on, and find wonder in, destinations that delight and excite to re-start our relationship with the beckoning outdoors. Whoever you are and wherever you are, the outdoors beckons – discover it!
Dispatches 01. Nimsdai Purja – Everest
Superhuman adventurer Nimsdai Purja is the fastest person on earth to climb all 14 of the world's 8,000m peaks in under 7 months and earlier this year he led the first team to ever summit K2 in winter. This May, Nims and his team were back on Everest again. Nimsdai has a zero-tolerance approach to the waste being generated by the increasingly popular expedition culture which is now having a detrimental impact upon those living in and around the mountains. Whilst on route to the summit he was assessing the state of the mountain before he embarks on a Big Mountain Clean-up later this year.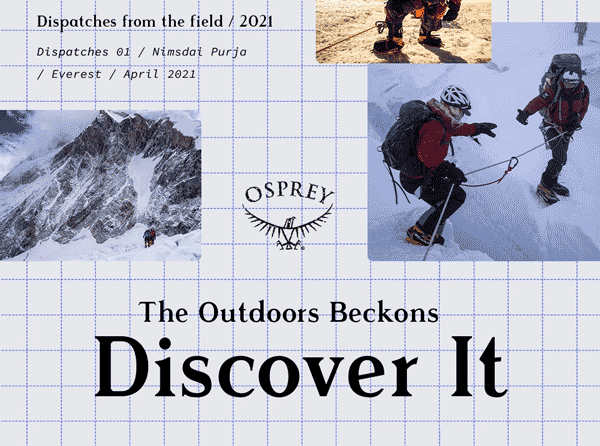 Dispatches 02. Sofia Jin & Aslan Steel – Oban Scotland
Osprey Athlete Sofia Jin and outdoor photographer, Aslan Steel report back from their recent trip to document wildlife in the Hebrides and Scottish Highlands as part of a project to explore locally and understand responsible wildlife tourism and conservation efforts in the UK. They were accompanied by a team of marine biologists who work in the local area.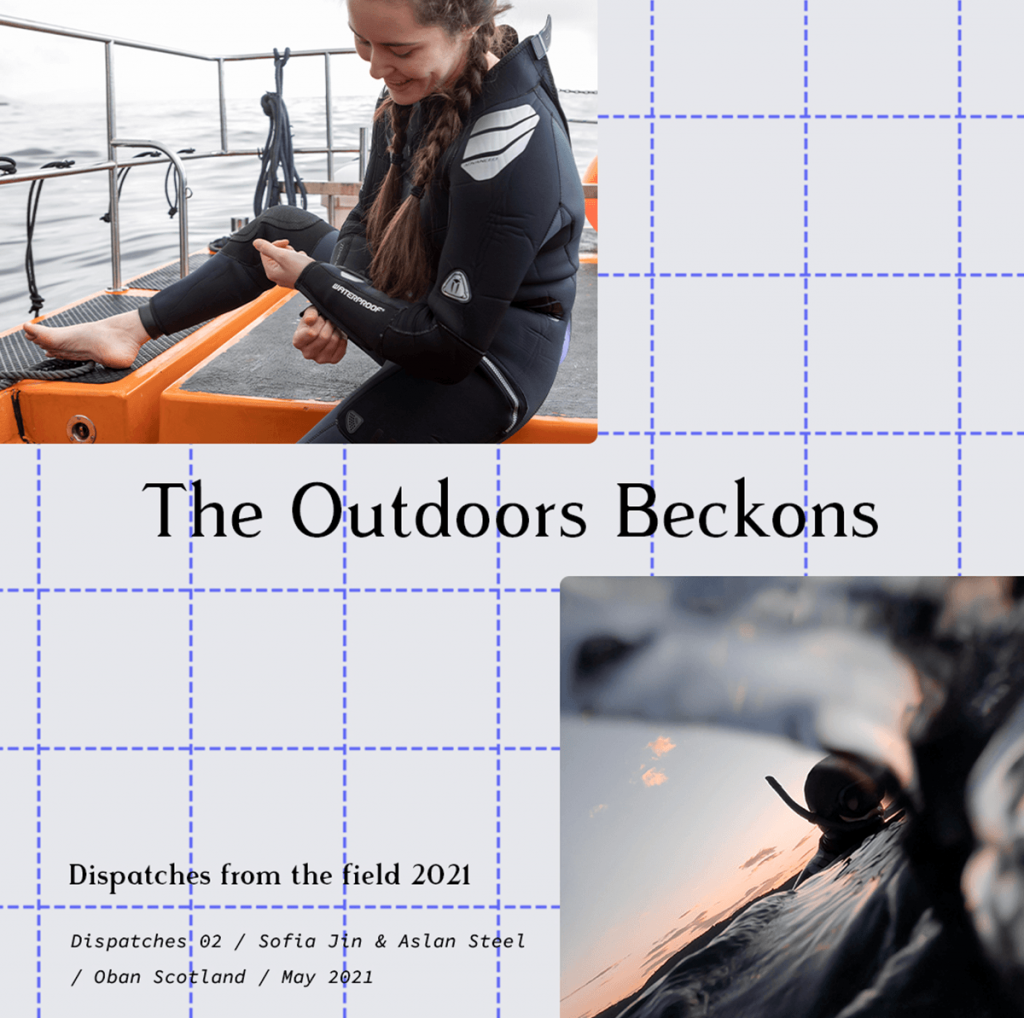 Dispatches 03. Aldo Kane – South West UK
Extreme adventurer Aldo Kane is an expert in traversing challenging outdoor environments. Aldo has operated and filmed in over 100 countries, has been held at gunpoint, charged by a black Rhino, abseiled into active volcanoes and is currently working on the Ocean X project exploring the most unreachable parts of the ocean. However, it's not all action and far-flung locations for Aldo. He's recently become a father for the first time. Whilst enjoying as much down time at home with his new family as possible, Aldo still finds opportunities to get outdoors closer to home. Osprey caught up with him for a spot of wild swimming. Aldo loves all types of water, whether oceans, lochs or rivers, he explains to us why it means so much to him.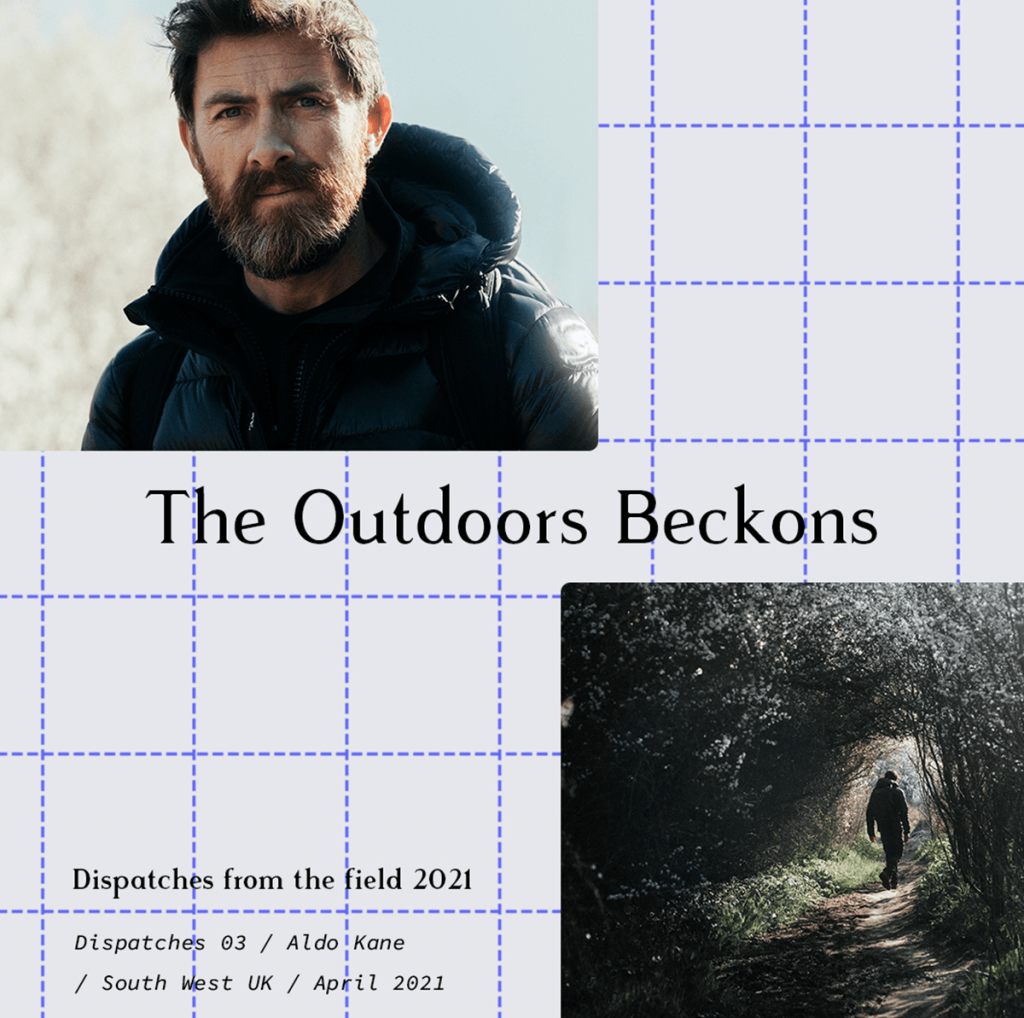 Dispatches 04. We Go Outside Too – Jurassic Coast, UK
After tragically losing his son to knife crime in 2020, Birmingham-based Marlon Patrice sought comfort in the outdoors to help him grieve. Realising the healing powers of nature, he set up We Go Outside Too to get more of the community out into nature, to unplug from inner-city living and encourage solidarity and unity within the black community. Marlon's passion for We Go Outside Too is gaining further momentum; to visit more green spaces and create individual experiences, as well as educating those who join the organised events and activities on environmental issues that the younger generations in particular can gain from. Marlon and the We Go Outside Too community took this ethos with them on their latest trip for a weekend of adventure on the Jurassic Coast.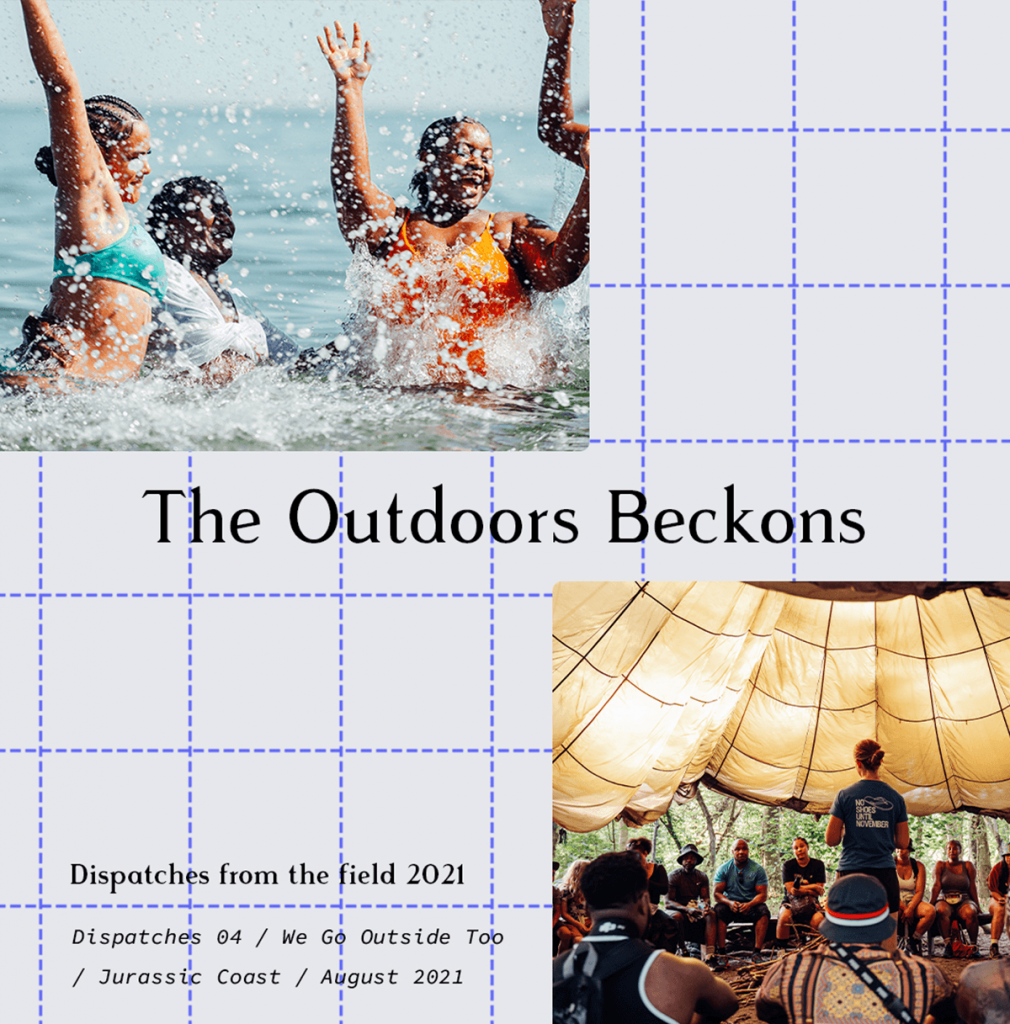 Dispatches 05. Neil Gresham – Lake District, UK
Osprey Athlete Neil Gresham is one of the world's best-known all round climbers, who has performed at a high level in every discipline from deep water soloing to sport, ice and traditional for over two decades. This year Neil has been exploring closer to home, setting his own challenges in the Lake District, a place he has climbed in since he was a child.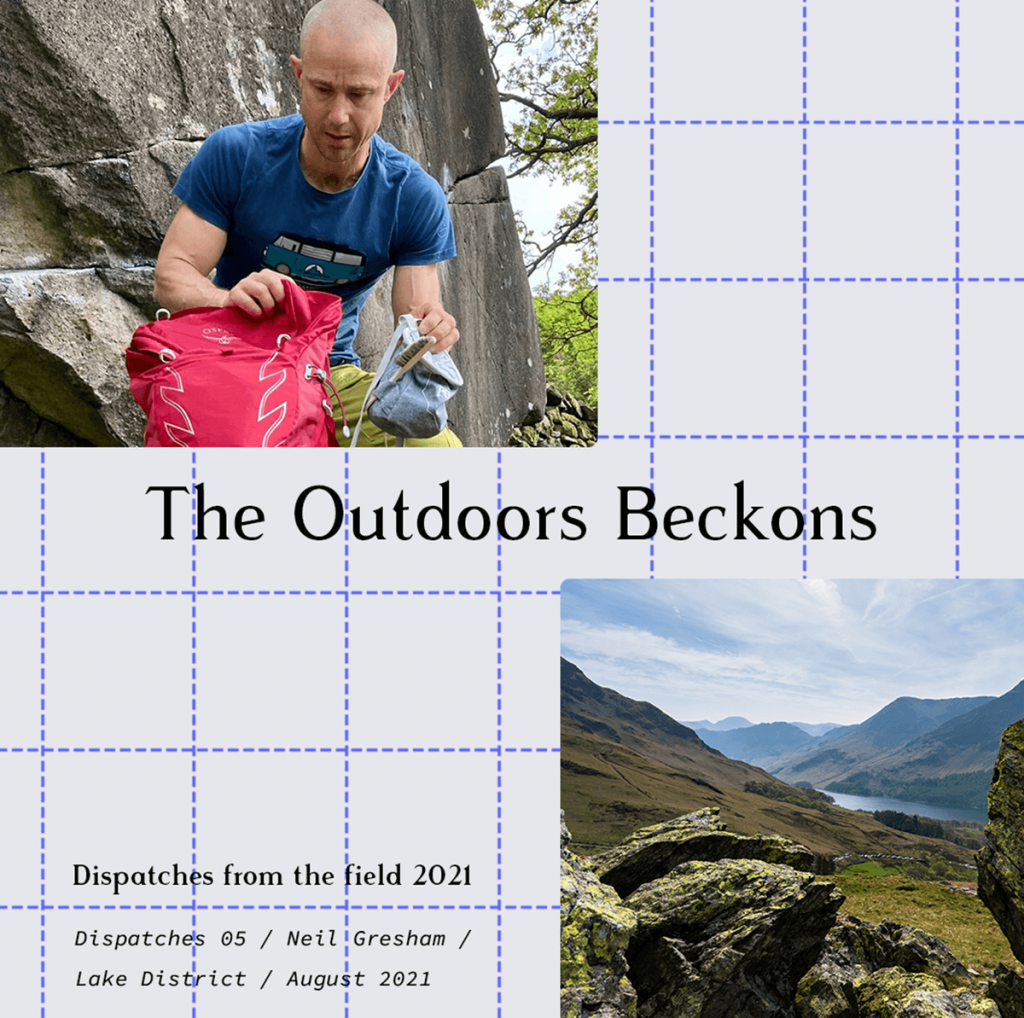 Dispatches 06. Marcel Lesch – Iceland
Osprey adventurer Marcel Lesch reports on his summer exploration across Iceland and the sights he experienced. From enjoying the country's wildlife, waterfalls and beautiful black sand beaches to feeling the heat from an erupting volcano, the trip to Iceland was the perfect opportunity for him to reconnect with his love of both photography and the outdoors.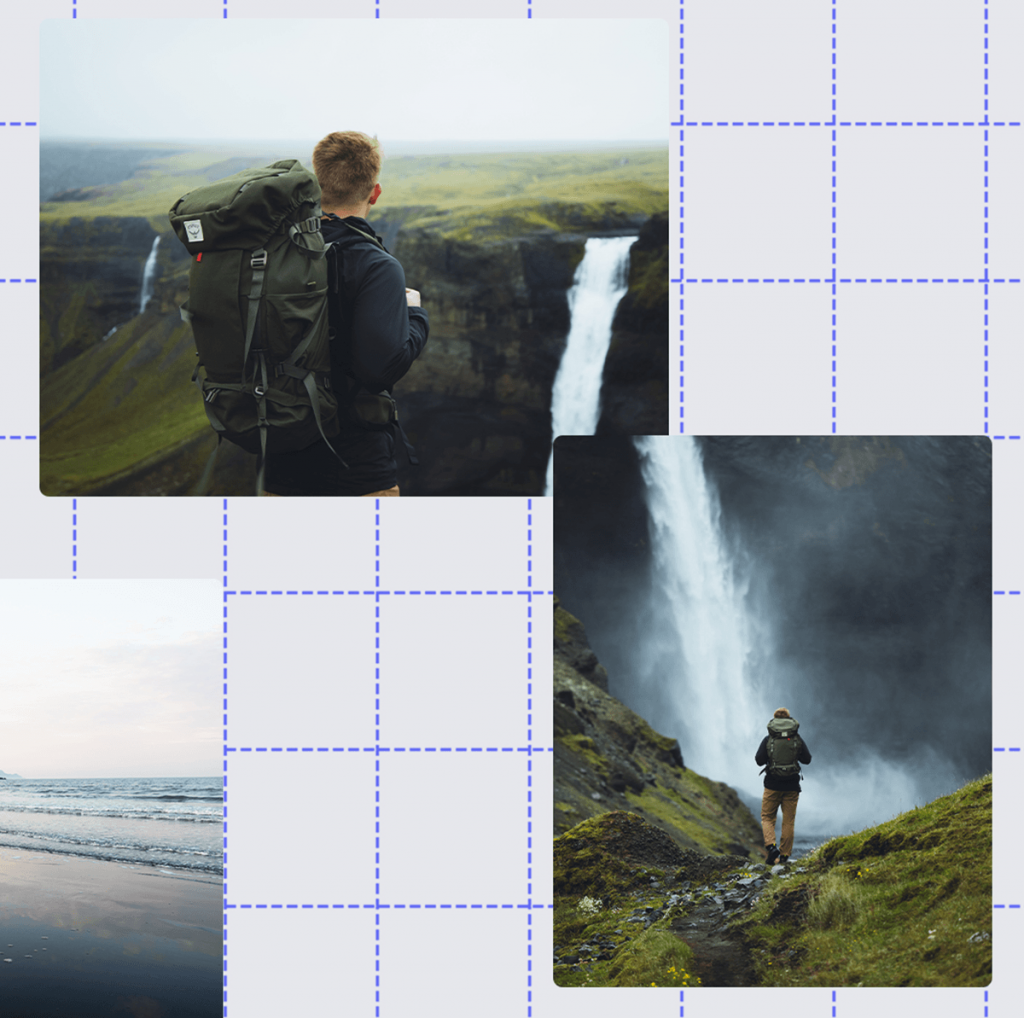 SHOP & DISCOVER THE LATEST FROM OSPREY HERE