Having decades of experience in creating clothing and outdoor gear for active trails and climbs in the mountains, has led Montane to innovate plenty of new designs and combine them with technical fabrics and weaves for performance, function and welcoming comfort.  The current crop of Montane Jackets have been expertly Engineered for Performance.
Montane Hi-Q Luxe Jacket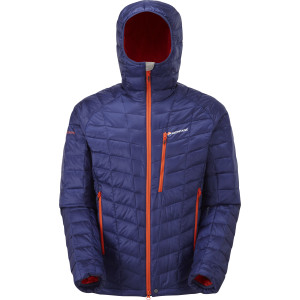 Created for day-long use in fits specially for men and women, the Montane Hi-Q Luxe Jacket collection affords plenty of comfort, warmth and wet weather protection.  Inside the lightweight Pertex Quantum Ripstop fabric exterior that features a Durable Water Repellent coating is Primaloft Gold Luxe synthetic down fill.  This premium down has the same high levels of loft and fill power as natural down feathers and retains the ability to insulate even when it has to quickly dry in wet conditions.  Technical elements that include articulated arms, adjustable drawcords and anatomical constructions allow for free movement in the Montane Hi-Q Luxe Jackets while staying comfortably in place without the worry of spindrift entry so is perfect for colder conditions.
Montane Alpine Pro Jacket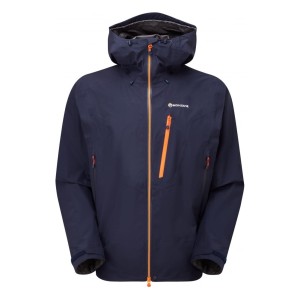 This all-round mountain shell is ready for staying active, especially when the wet weather sets in.  GORE-TEX Pro fabric used for the Montane Alpine Pro Jacket is able to keep moisture from rain and snow from soaking inside, yet is very breathable so any perspiration can easily escape.  This GTX Pro fabric also makes the Montane Alpine coat quite durable as well, plus comfortable to wear.  The arms on this Montane Alpine Pro jacket are articulated so full freedom of movement can be achieved, plus the hood is compatible with a helmet so is ideal for climbing.  Angled underarm zips allow for extra ventilation while the front and pocket zips are all waterproof Aquaguard so there is no worry of moisture getting through.
Montane Featherlite Pro Pull-On Jacket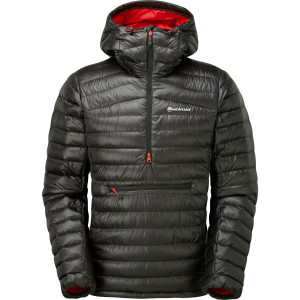 Designed as an easy to wear mountain activity insulation layer, the Montane Featherlite Pro pull on smock-style jacket can be compressed and packed away, yet while worn is comfy, warm and has plenty of features to make it compatible with your gear.  Pertex Quantum CS-10 fabric has been designed to be highly resistant to wear from abrasion and snags on rocks and branches.  Each Montane Featherlite Pro has a PEAQ Down lining as its soft to the touch, breathable and is able to dry very quickly.  Inside is Allied Feather & Down Titanium HyperDRY Eco goose down with fill power at 800+ so insulates incredibly well, is ultra-lightweight and is both water-resistant and hydro-carbon free.  The hood is able to be fitted over a helmet and also has a reinforced peak to keep its stability.  Adjustable elements give this Montane pull-on a comfortable fit and helps to reduce spindrift or alternatively allows for a cooling airflow.
Ready for the mountains, Alpine trails and cold weather walks and hikes, these Montane Jackets are engineered for performance.