Treks and hikes in the warmer months shouldn't be restricted to wearing fully enclosed footwear like boots and shoes that end up getting a little too warm and humid inside for comfort so expert brands like Merrell have cleverly merged all of the functional and performance aspects of high quality hiking footwear with the open-toe design of sandals for the best of both worlds.
Merrell Walking Sandals feature footbeds, midsoles and outsoles constructed with their latest technical innovations and others from specialist companies like Vibram and GORE-TEX to have all of the performance you would expect from premier footwear to remain comfortable and supportive all while gripping across a lot of varied terrain even in wet conditions.  Upper constructions vary as well yet maintain secure fits that can be swiftly adjusted if need be, so provide plenty of comfort as you walk.
At Gear Guru we have been fortunate enough to head out onto our favourite trails with a varied selection of Merrell Walking Sandals to determine which pairs perform the best overall for our Top 5 Merrell Walking Sandals in 2016.
Our Top 5 Merrell Sandals
Merrell Kahuna III Walking Sandals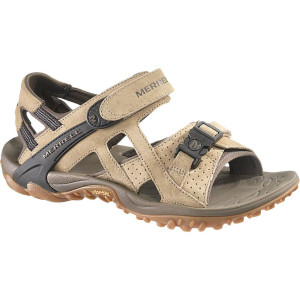 The Kahuna style of Merrell walking sandals is at the time of writing on its third iteration.  It has become a reliable, classic design favoured by many walkers that offers plenty of comfort on trails and can be simply adjusted to accommodate different shapes of feet quite easily for an all-round secure fit.  Durable and naturally breathable suede on the exterior lends to a premium feel and Neoprene has been used in the lining for lasting next to skin comfort, with Aegis anti-microbial treatment that stops odours developing.  The contoured footbed cradles the foot making them ideal for long walks and the proprietary Merrell Air Cushion in the heel absorbs shock while maintaining torsional stability.  Complete with a Vibram Chameleon Sport Sandal sole these Merrell Kahuna II walking sandals grip and ensure control when you need them to.
Merrell Terran Post II Walking Sandals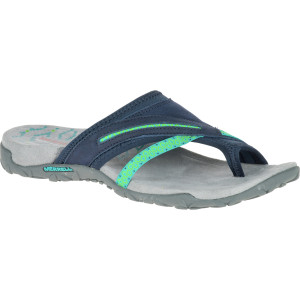 The Merrell Terran sandal collection includes different versions depending on both personal preference and type of terrain.  Leather uppers give a certain durability and style to these sandals though having a slip-on style means these Merrell Terrain Post II walking sandals are better suited to less strenuous walks as they are without the security of a heel strap (though there is a version with one) but the outsole uses Merrell's own M-Select GRIP for reliable traction on wet and dry ground, plus easily sheds mud and debris if you do end up off-road.  A footbed made of Merrell's Remember Me Foam with a Microfibre fabric keeps a soft comfort throughout wear to help reduce muscle strain as you walk and has been given an M-Select FRESH treatment to stay odour-free which is ideal in warmer weather.
Merrell Azura Wrap Walking Sandals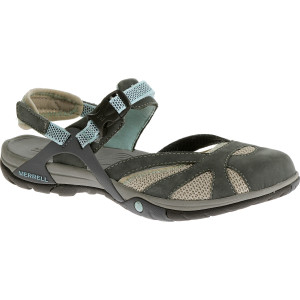 A popular ladies style of walking sandals, the Merrell Azura Strap variation is a little closer to enclosed footwear as the toe-box wraps around the forefoot, though if you are planning on going on a hike the extra protection is certainly welcome.  The rest of the upper has a secure hook and loop backstrap and is all made from a combination of nubuck leather, air mesh and webbing so that comfort, water resistance, protection and durability are where they are needed most.  Like all Merrell sandals the Azura Wraps have enough comfort, support and shock absorption in the footbed and midsole to see you through most kinds of terrain.  As with the previous pair these Merrell Azura Wrap sandals have M-Select GRIP tuned soles, so you can expect plenty of traction as you walk.
Merrell All Out Blaze Sieve Convertible Walking Sandals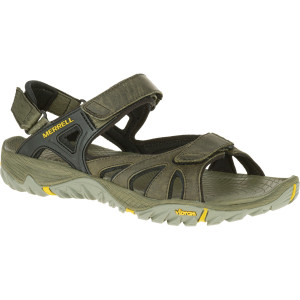 Part of their Hydro-Hiker series, the Merrell All Out Blaze Sieve Convertible sandals we found were ideal in wet weather due to their design for resisting and shedding water, surprising light weight and quite a lot of traction and stability regardless of how dry or wet the ground was.  The tough leather upper is PU coated for waterproof protection so it doesn't become uncomfortable and features a hook & loop closure for a reliable fit, plus Velcro at the forefoot and at the top near the ankles.  To achieve the low overall weight but not sacrifice any grip the outsole is made from Vibram TC5+ rubber with hollowed out lugs and in the midsole, UniFly technology stabilises the foot really well for better balance and a soft landing with every foot strike.
Merrell Mojave Walking Sandals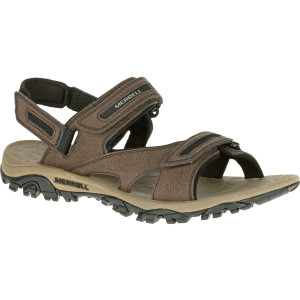 These Merrell Mojave sandals are fairly versatile and ready to tackle a lot of varied terrain.  Similar in structure to the previous pair of walking sandals these have a reassuring fit thanks to a durable, waterproof leather upper with both Velcro and hook & loop closure and have quite a lot of traction thanks to deep-lugged M-Select GRIP soles.  These are also able to shed debris and mud from the lugs so that grip is maintained even on wet terrain that would clog up a normal shoe.  The midsole/footed construction as with the others is very supportive and cushioned so they remain comfy all day.
Conclusion
So for wet weather hikes, inspiring summer trails or just a casual stroll through town one of these Top 5 Merrell Walking Sandals will provide everything you need for a comfortable experience.