Merrell is due to release their latest Moab footwear model as part of their Fall/Winter collection in 2016 which has been called the Merrell Moab FST Walking Shoe.  Designed to provide lasting comfort in the least comfy places on Earth with the out of the box, secure and supportive fit expected from the Merrell Moab, but has been given a more athletic styling along with a lighter midsole.  As with the rest of the Moab footwear, the Merrell FST is available in a number of styles which includes both mid-height and standard models with GORE-TEX, a non-waterproof version and a winter model that is made with the new Artic Grip technology from Vibram made exclusively for Wolverine worldwide.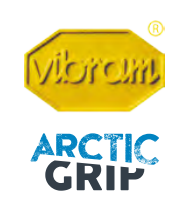 The innovation of Vibram Artic Grip technology, which was announced under the working title of Vibram PolarIce Grip sees an outsole construction that will actually give traction and grip in icy conditions.  The lugs with Arctic Grip technology simply grips even to wet ice as you would expect a normal pair to do on wet or rocky terrain, plus thermochromatic lugs have been used throughout as they change colour when the ground temperature reaches zero so that you know when icy conditions are likely so can prepare yourself accordingly.  In addition to being quite hard wearing to stand up to mile after mile the Vibram Arctic Grip outsole will only leave a mark on the trail so can be worn indoors without worry of leaving any rubber marking behind.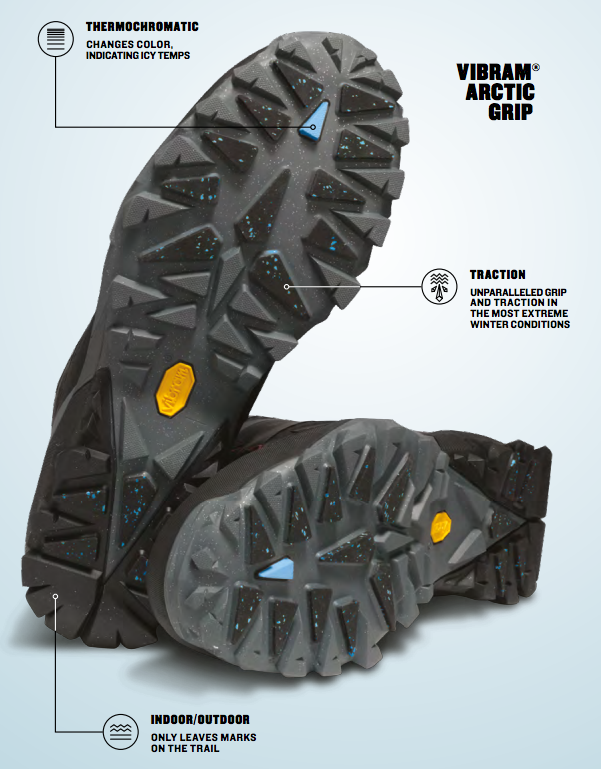 Merrell will be adding the Vibram Artic Grip to both the men's and women's versions of the new Moab FST Ice+ Thermo Walking Boots so you can enjoy all of the benefits of the classic design with secure traction on any surface, regardless of the conditions.  A new Merrell Capra design called Glacial Ice+ in a mid-height waterproof version will also sport the Artic Grip along with two variations of the Merrell Aurora Ice+ waterproof ladies boots, one tall and the other 6 inch in height depending on your preference of style.