Osprey are known for their premium backpacks packed with features for comfortable and organised hikes and trails. With designs suited to different heights with different capacities and adjustable torso lengths, the His & hers packs are suited to fit every person. We've reviewed three of our men's and women's backpacks to discover why these backpacks are ideal for any adventure.
Atmos AG and Aura AG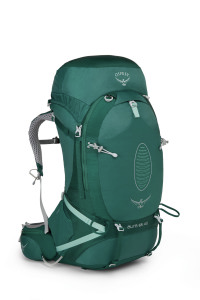 The Osprey Atmos AG for men and Aura AG for women are named due to the Anti-Gravity mesh panel and hip belt, making this the go-to backpack for longer hikes; or if you're looking for ultimate walking comfort, the ventilation system provides premium cooling for comfortable trails. The 3D cavity back panel creates unrivalled ventilation whilst still providing an excellent load performance, meaning a bag full of gear felt almost weightless on our backs. Extra features ensure weight is distributed perfectly, with a Fit-on-the-Fly™ hip belt for adjustments, a load lifter bar on the shoulder straps with ExoMesh padding for further ventilation and comfort, and compression straps for impressive load support to reduce fatigue for longer adventures.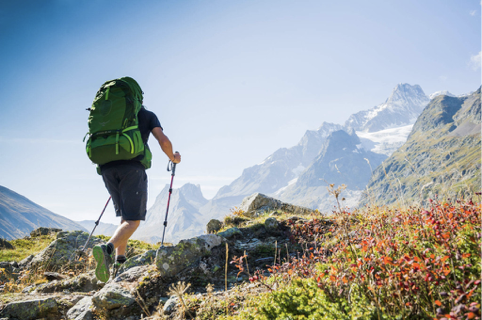 With a large top-entry point for the main compartment, two smaller front pockets ideal for handy items or smaller bits and pieces, and a large sleeping bag base compartment that allows you to separate sleeping bags or muddy footwear, there's plenty of room in the 65 litre capacity of either bag. The Stow-on-the-Go™ trekking pole attachment means you can easily store your poles and access them whilst keeping the bag on your back, and the removable lid can shed weight with the FlapJacket™ foldable lid if you're looking for a versatile backpack with a range of capacities or weight. If the weather turns for the worse, the integrated yet detachable rain cover can be quickly pulled out and over the bag to protect your rucksack and gear from the elements.
Kyte and Kestrel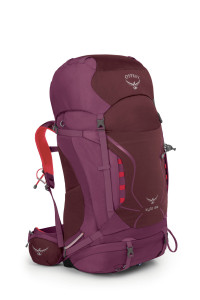 The women's Kyte and men's Kestrel backpacks come packed with compartments suitable for everything from sleeping bags, trekking poles and ice axes to hydration packs, so it's easy to keep your gear organised whilst keeping the design compact for ease of movement and comfort. The main compartment takes most of your larger equipment, but the vertical side zipped compartment easily fit jackets and items you need to keep on hand. The base sleeping bag compartment is ideal for muddy shoes, or you can zip down the fabric between this and the main compartment to create an even larger compartment if needed. In all, the compartments create easy organisation ideal for changing conditions overnight or during the day. The rest of your gear can be packed into the stretch front pocket which is ideal for wet items, and the hip belt compartments are ideal for small, essential items. The single ice axe loop is ideal for winter conditions, and the Stow-on-the-Go™ trekking pole system means you can keep your poles handy without having to take off your bag.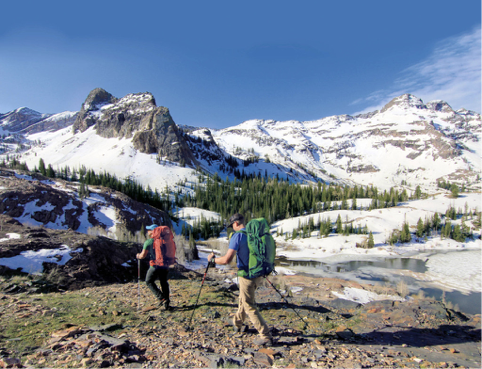 Aside from great organisation, these backpacks feature the adjustable AirScape™ back panel which keeps you ventilated. The adjustable design means you can create the load support you require, and the backpack can be configured to your personal height for total comfort. When you've finished packing your rucksack and are ready to hit the trail, use the compression straps to keep everything in place, and top the bag with the detachable rain cover on wet hikes.
Talon and Tempest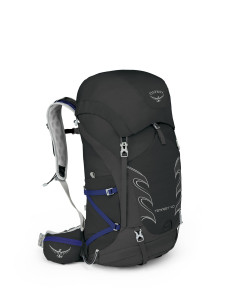 The Talon and Tempest backpacks are the smallest of our His & Hers Osprey range, with our men's Talon backpack featuring a top capacity of 44 litres, and the women's Tempest in up to 40 litres, both ideal for day trails or hikes that require less equipment or a light weight. The clever AirScape™ accordion foam back panel looks the part and combines with a lumbar-to hip belt body wrap for increased air flow and ventilation, for a close to body load for supreme comfort. The Stow-on-the-Go™ trekking pole attachment and InsideOut™ compression straps are ever present as with our other His & Hers packs, meaning this smaller design can still equip you through most terrains.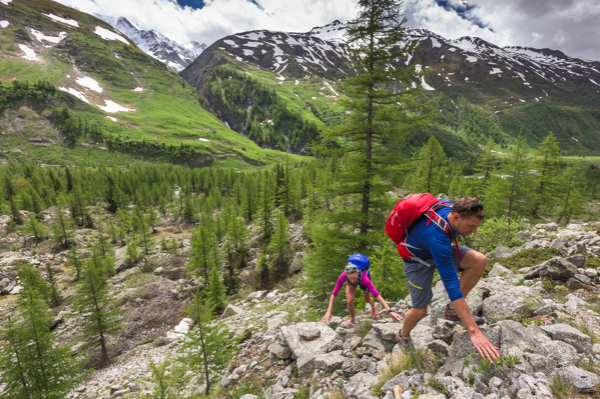 With a large main compartment to pack most of your gear, this rucksack also comes with other innovative pockets for extra packing and organisation. The hip belt pocket is perfect for quick and easy access, and water bottles can be reached from the side pockets. To complete the design, these bags also feature a sleeping bag pocket with an internal divider as well as a stretch front pocket ideal for unusual shaped items. The adjustable torso length means the backpack perfectly fits your height, and the external hydration access is ideal for easy access on the move- and means your gear won't be affected should any pack leak. With added security and organisational features such as the internal key clip and LED light attachment point, this bag takes everyday adventure and adds extra premium detailing for your next adventure.
Whether you're looking for a backpack for premium comfort, organisation or a smaller day style, Osprey have the ideal rucksack for both him and her.
Check our Osprey's video below to discover how these packs were made for women.